The Ralpher – July 2019 Edition
Hello!
Welcome to the summer edition of The Ralpher. It's looking like it's going to be a long, hot summer, so grab your shades and settle in to read our latest edition full of news and stories. We have an unusual case of respiratory distress in our tales from the clinical floor, and we share details of our upcoming free CPD event.
As always, we would love to hear from you. So if you have a question, feedback, or a suggestion please drop us a line.
Take care,
Team Ralph
In this month's edition…
Spotlight on…
Meet Heidi and get to know more about our Ophthalmology Service
Tales from the clinical floor:
This month we hear Gummy Bear and Fudge's stories
Passion for patient care…
Meet Alanna, one of our Registered Veterinary Nurses and Team Ralph Champions!
More information:
We share details on our upcoming CPD event and our new CPD library
Team announcements
We are very excited to welcome Alan Danielski to Team Ralph. Alan, DVM MRCVS DipECVS European and RCVS Specialist in Small Animal Surgery, joins our Orthopaedic Surgery Service and will be working closely with Stefano caring for patients with musculoskeletal disorders.
Alan graduated from Parma University in Italy. He moved to the UK in 2007 to continue developing his professional career in surgery. Since then Alan has been following his goal to become a Specialist in surgery. In 2016 he achieved this by passing the Board examination to become a European Diplomate in Small Animal Surgery. Over the past eleven years, Alan has worked at two of the UK's leading referral centres for orthopaedic surgery, managing a large and complex caseload. His approach to patient care aligns with The Ralph's ethos – "We care for every animal as we would our own". Alan believes in the importance of exceptional client care throughout the patient's journey. Here at The Ralph, Alan will provide the highest level of orthopaedic care by combining the latest technology with the team's years of experience. The team has access to state of the art equipment. This includes a Storz arthroscopy tower, patellar groove replacement kit and Biomedtrix total hip replacement kit. They are able to diagnose and treat many orthopaedic disorders. These include:
• Lameness diagnosis and treatment
• Shoulder, elbow and stifle Osteochondritis Dissecans (OCD) treatment
• Elbow dysplasia
• Proximal Abducting Ulnar osteotomy (PAUL)
• Unicompartmental elbow replacement (CUE) (available from late 2019)
• Hip dysplasia
• Total hip replacement
• Cranial cruciate ligament disease
• Patella luxation
• Joint arthrodesis
• Lumbosacral disease
• Angular limb deformity
• Arthroscopy
• Simple and complex fractures and joint dislocation
• Regenerative medicine
Alan possesses a broad set of surgical skills. He is particularly interested in elbow dysplasia, arthroscopy and complex fracture repair. When Alan is not working at The Ralph, he enjoys family time with his wife Natalie, his daughter Isabella and their cat Zucca. As a born and bred Italian, Alan loves cooking and a glass of good wine. In his spare time, Alan loves travelling, riding his motorbike (like other Ralpher surgeons!) or Vespas and watching Valentino Rossi on the TV. Alan is an international speaker and reviewer for several veterinary scientific
journals.
Spotlight on Ophthalmology
Like us humans, taking  care of our pet's eyes is crucial to their wellbeing. Our Ophthalmology Service is provided by Heidi Featherstone BVetMed DVOphthal DipECVO MRCVS RCVS and EBVS® European Specialist in Veterinary Ophthalmology. We offer standard and advanced diagnostic tests in conjunction with routine, complex and emergency care for a wide range of ocular conditions, including:
Cataract and lens luxation surgery
Entropion/ectropion – routine and complex
Third eyelid surgery including "cherry eye"
Abnormal eyelashes (cryosurgery, electrolysis)
Corneal disease – medical and surgical management including a range of grafting techniques for complex corneal ulcers
Surgical management of refractory "dry eye"
Glaucoma
Management of ocular tumours
Management of ocular trauma
Sudden onset blindness
Neuro-ophthalmic disease
BVA/KC/ISDS Hereditary Eye disease clinics
This is facilitated by an extensive range of specialist equipment – including a Zeiss operating microscope with a camera and video recording facilities, and our "Whitestar Signature Pro" phacoemulsification unit for cataract surgery.
Our Emergency Ophthalmology Service operates 24-7-365!  
Heidi and the team are a friendly bunch! We are always happy to provide general advice and to discuss cases, just drop us a line at [email protected].
Tales from the clinical floor
Gummy Bear 
Gummy Bear was referred to our Dentistry Service with an extreme case of traumatic tooth abrasion. 
Gummy Bear is a rescue dog from overseas, and was severely malnourished. We believe Gummy Bear may have picked up habits of inappropriate chewing (e.g. on stones) while on the look-out for anything edible, which has resulted in the severe tooth abrasion. 
On presentation, Gummy Bear weighed 12.6 Kg and had a body condition score of 5/9. She was bright, alert and responsive and she was eating very well. She shied away from being stroked under the chin. The incisor teeth were abraded to the gum-line and exhibited visible black pulp exposure on the wear-facets. All four canine teeth were worn to within a few millimetres above the gingival margin, with pulp exposure. Many maxillary premolar teeth had the entire crown worn away with only the roots showing at the gum-line, and all with pulp exposure. The left maxillary first molar tooth had a relatively fresh pulp exposure; red pulp was visibly exposed. The mandibular premolar teeth and the molar teeth 109, 309 and 409 were variably affected by abrasion (more severe rostrally) but all had formed reparative dentin as a protective mechanism.
Preoperative radiographs revealed open apices of the right maxillary canine tooth, and closed apices of both mandibular canine teeth. The latter and the mandibular third incisor teeth had impaction of radio-opaque particles into the exposed root canal systems. Marked periapical radiolucencies were apparent on the mandibular incisor teeth. Radiographs of the right maxillary premolar teeth with pulp exposure revealed periapical widening of the periodontal ligament space consistent with inflammatory apical reactions to endodontic infection. The radiograph of the right mandibular premolar and molar teeth confirmed formation of reparative dentin and there were no signs of endodontic pathology. Premolar and molar radiographs were not taken on the left side in this case as a time-saving measure since the likelihood for near-mirror image anatomical and pathological situations was high.
The mandibular canine teeth received root canal therapy. Twenty teeth were extracted in total. Closed extraction technique was used on most teeth, and the maxillary canine teeth were extracted with surgical technique. Muco-periosteal flaps were closed with 4/0 Monocryl simple interrupted sutures.
We were pleased that we could save the mandibular canine teeth. Despite only a short button-like crown, the root size is large and gives significant stability to the mandible. Even though this made the overall anaesthetic time longer, an extraction of both mandibular canine teeth in one sitting may not have been advisable due to the consequent weakening of the mandible, and we would have staged this over two procedures. This way, we could complete all treatments in one sitting, and Gummy Bear was stable under the long balanced anaesthetic (six hours). Prevention of further abrasion is important for the remaining teeth, and Gummy Bear's carer has been equipped with a long list of chew objects to avoid.
Fudge
Fudge is a 7-year-old neutered female Domestic Shorthaired cat who recently was referred to The Ralph for tachypnoea, dyspnoea and coughing. Fudge's carer reported her coughing had been present for a few months, however the onset of dyspnoea was acute. In addition, weight loss was evident. 
On presentation Fudge was bright and alert. Moderate tachycardia and tachypnoea, with increase in respiratory effort, were present. Rectal temperature was normal. Thoracic auscultation demonstrated a grade 2/5 systolic heart murmur as well as reduced lung sounds especially on the left. Abdominal palpation was within normal limits.
Routine haematology and biochemistry demonstrated mild normocytic normochromic anaemia and hyperglobulinaemia. Blood gas analysis was consistent with a respiratory acidosis suspected due to hypoventilation. 
After initial stabilisation with intravenous fluids, oxygen supplementation and analgesia, a CT scan of the thorax and abdomen was performed. The CT scan demonstrated a fluid-attenuating cavitary lesion measuring 7 cm in length and 4 cm in width within the caudodorsal mediastinum (Figure 1). The space-occupying lesion was deviating the oesophagus to the left. The differential diagnoses in this case include neoplasia, fungal disease and a para-oesophageal abscess. In addition there was generalised sternal and mediastinal lymphadenopathy. The abdomen was within normal limits. 
As a para-oesophageal abscess was a likely differential we opted not to perform ultrasound-guided fine needle aspirates due to the inherent risk of disease spreading and pyothorax. We opted for a right eighth intercostal thoracotomy. On opening the thoracic cavity marked fibrosing pleuritis with adhesions of the lung lobes to the thoracic wall was evident. The adhesions were digitally broken down and further exploration of the thoracic cavity demonstrated a large smooth fluctuant swelling. The swelling was explored and a significant amount of purulent flocculant material was removed (Figure 2). A swab for bacterial culture was taken. The thoracic cavity was copiously lavaged and closed routinely. A thoracostomy and oesophagostomy tube were placed.
Laboratory results demonstrated no bacterial growth (however Fudge had already received antibiotics prior to surgery). In addition, there was no evidence of Mycobacterium spp. with special staining. Histopathology confirmed chronic-active neutrophilic inflammation. There was no evidence of neoplasia.
The suspected cause of the respiratory signs in this case was a para-oesophageal abscess. The aetiology of the para-oesophageal abscess was unknown. Fudge made a full recovery from surgery and was discharged back to the family home with a protracted course of enrofloxacin and clavulanate-potentiated amoxicillin. At the time of writing, Fudge has had no signs of recurrence and the long-term prognosis is favourable. 
Alanna's passion for patient care 
Our Registered Veterinary Nurse, Champion of End of Life Care and Bereavement, and Champion of Patient Safety, Alanna, shares why she is passionate about making a difference, even after the passing of a patient.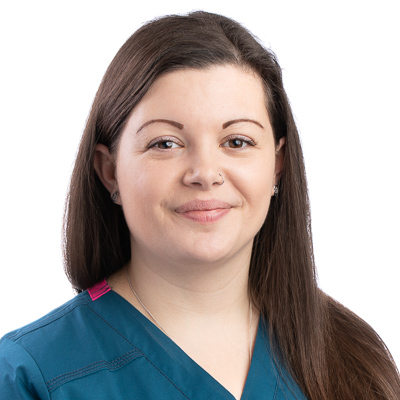 "My role is very varied here at The Ralph. As well as being a Registered Veterinary Nurse rotating through all of our services I am also the Champion of End of Life Care and Bereavement, and a Champion of Patient Safety. My role as a nurse involves many tasks. No day is really typical for me as it depends which area of the hospital I am working in as to how my day will run.
One of my champion roles is to support our patients, pet carers and other team members with end of life care and bereavement. This is an area that I'm really passionate about and something I feel is incredibly important. We are very lucky that we have a lovely bereavement room and outside bereavement area for our carers to use. For me it's all about making the last moments as comfortable, peaceful and dignified as possible for all involved and allowing the patients and pet carers the time they need to say their goodbyes. I also arrange the aftercare for patients once they have passed away and offer additional support should the pet carers or team members involved require it.
In my Champion of Patient Safety Role I work closely with other members of Team Ralph to ensure our patients are getting the very best care. We regularly review, debrief and discuss ways in which we can achieve this. Such as looking at ways to improve our handovers and pre-procedure briefings. 
I do what I do because I enjoy making a difference. This could be anything from getting a patient to eat a mouthful of food, to simply putting a smile on a team member's face when they've had a tough day. I also enjoy that I am able to continue to look after the patients in the most compassionate and dignified way right to the very end and beyond."
CPD Corner 
Our next free CPD evening will take place on Wednesday 11th September 2019. The session titled 'Feel it in the bones – Getting to grips with the thoracic limb examination' will be presented by our Orthopaedic Surgeon, Alan Danielski DVM MRCVS DipECVS European and RCVS Specialist in Small Animal Surgery. Forming a critical part of the orthopaedic work-up, this session aims to equip you with the necessary skills and knowledge to confidently perform an orthopaedic examination of the thoracic limb. 
Refreshments will be available from 7:30pm, with the session starting at 8:00pm. 
The event is open to all members of the veterinary community and will be hosted at our referral centre in Marlow. Check out our Events page for further details on the event and to register your attendance. 
Missed out on one of our previous CPD events?…Not to worry! 
You can now watch recordings from our CPD sessions on our website. Videos and audio recordings will be available shortly after each live event, and are free to access. Just visit our new Library + Learning page to catch up on the event you missed. 
Fancy a lunch + learn? 
Would you like to know more about what we do at The Ralph? Do you have some questions you would like to ask us? Then let's get a lunch and learn booked in. You bring the questions, we bring the lunch! To request a lunch and learn, email us.
Thank you for taking the time to read our news and stories from inside the hospital. Stay tuned for our next edition, and more news on our upcoming events.
Take care,
Team Ralph
Leave a comment