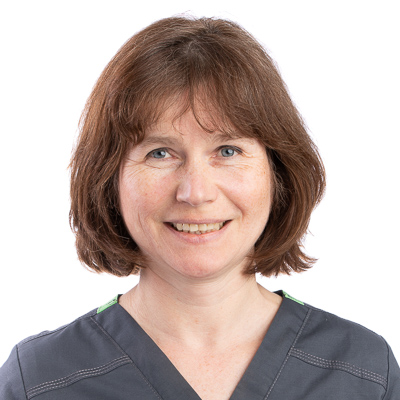 Simone Kirby
Dipl.EVDC FHEA MRCVS
Dentistry Diplomate
Simone graduated from Berlin University (Freie Universitaet Berlin) and moved to the UK soon after graduation. She became a member of the British Veterinary Dental Association in 1996. From 1999 to 2001, she underwent a residency in Veterinary Dentistry at the University of Pennsylvania in Philadelphia, USA.
Having become a Diplomate of the European Veterinary Dental College (EVDC) in 2004, Simone has taken on numerous roles on the College Board and EVDC Committees since then. She is also a past-President of the British Veterinary Dental Society (BVDS) and she was the Lecturer in Veterinary Dentistry at the Royal Veterinary College, London from 2012 to 2017.
Simone became a Fellow of the Higher Education Academy in the UK in 2016 with a post-graduate Certificate in Veterinary Education. Prior to joining us at The Ralph, Simone worked as a visiting referral consultant in private practice in Hertfordshire and North London.
Simone and her husband, Steve, share their home with two cats, Cookie and Neo. Simone has two step-children and was a London Marathon finisher in 2006.  She enjoys a whole range of fitness, like HIIT, hiking, biking running, Pilates and weight-training. She also loves honest good food, trying out new recipes, re-watching favourite old movies and checking out art-house movies (but avoiding the violent ones and definitely no horror!). Simone is an active member of her local Church community and is looking forward to getting more involved in volunteering and local community engagement.