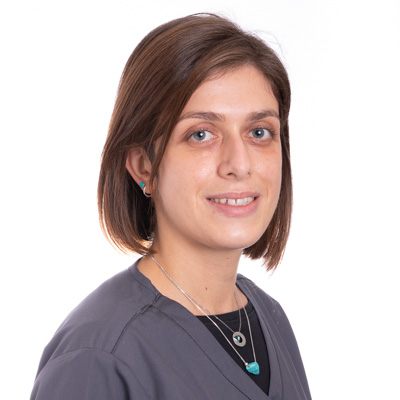 Despoina Douralidou
MRCVS DVM
ECVN Neurology & Neurosurgery Resident
Despoina graduated from Aristotle University of Thessaloniki, in Greece, in 2016. After that she worked in a first opinion practice in Greece for 2 years.
In 2018 she moved to the UK to start her rotating internship in Derby. After 1 year, when she finished her internship, she worked for a few months as a first opinion vet before she started her internship in Neurology at The Ralph. After time as an Intern and then a Senior Intern in Neurology, Despoina started her Neurology & Neurosurgery Residency (Specialist training) in August 2022.
Despoina was always interested in Veterinary Neurology as a student and as the years went by her interest in this field became bigger. In order to offer the best care to our patients, Despoina's goal is to specialise in Veterinary Neurology and offer her best to neurologically affected animals.
She has 2 pets back in Greece, a dog called Eve and a cat named Taz who were rescued while she was working there. In her free time, she likes to travel, spend time with her friends and enjoy walks within nature.